News/Blog
AQUABIOPROFIT in the 3rd World Congress of Thermal Medicine in Greece
The 3rd World Congress of Thermal Medicine which was held 09-11 October 2022 at the Hotel Galini, Kamena Vourla, Greece, was organized by the Hippocratic Academy of Thermal Medicine and the European University of Cyprus. At the congress participated outstanding Professors, as well as internationally well-established doctors who presented the evidence based Thermal Medicine up to date information while at the same time lectures, workshops and round table discussions took place. Thermal Medicine, possess scientific documentation and supports the thermal, mechanical, chemical and particularly biological and immunological effects of the healing natural resources and emerged as a complementary therapeutic method to the Classical Medicine. The AQUABIOPRPFIT project developing high value nutritional supplements offers a valuable tool for wellbeing and preventing medicine.
In the frame of 3rd World Congress of Thermal Medicine, Biognosis organized a special session devoted to the achievements of AQUABIOPROFIT project where the results of project Clinical studies were presented as follow:
1. Nutritional supplements from Fish protein and protein hydrolysates - products and applications. Results from the BBI JU Horizon 2020 project Aqua Bio Pro-Fit. Kousoulaki Katerina Biologist Ph.D. NOFIMA, Norwegian Institute of Food, Fisheries and Aquaculture Research.
2. Pre-clinical studies on the effect of fish side stream-derived dietary supplements in metabolic and inflammatory diseases. Tsatsanis Christos Professor of Clinical Chemistry Medical School – University of Crete, Greece.
3. Nutritional Supplements bioactivity, functional properties and safety. The Aquabioprofit Training System Georgiou Zoi Biochemist, Clinical Chemist Ph.D. President of Biognosis Greece
4. Nutritional supplements for Athletes performance. Mougios Vasileios Professor of Exercise Biochemistry TEFAA Aristotelian University of Thessaloniki
5. Nutritional Supplements for skin and hair Improvement. The Aquabioprofit Clinical studies. Kardasi Maria, Dermatologist, Antiaging Doctor, President of The Hellenic Anti-Aging Academy
6. Nutritional Supplement against Stress and Depression. The Aquabioprofit Clinical studies. Loukas George MD. Ph.D. Psychiatrist President of G.Loukas Institute
7. Nutritional supplements for body detoxification. The Aquabioprofit Clinical studies. Georgiou Zoi Biochemist, Clinical Chemist Ph.D. President of Biognosis Greece
Date: 10.10.2022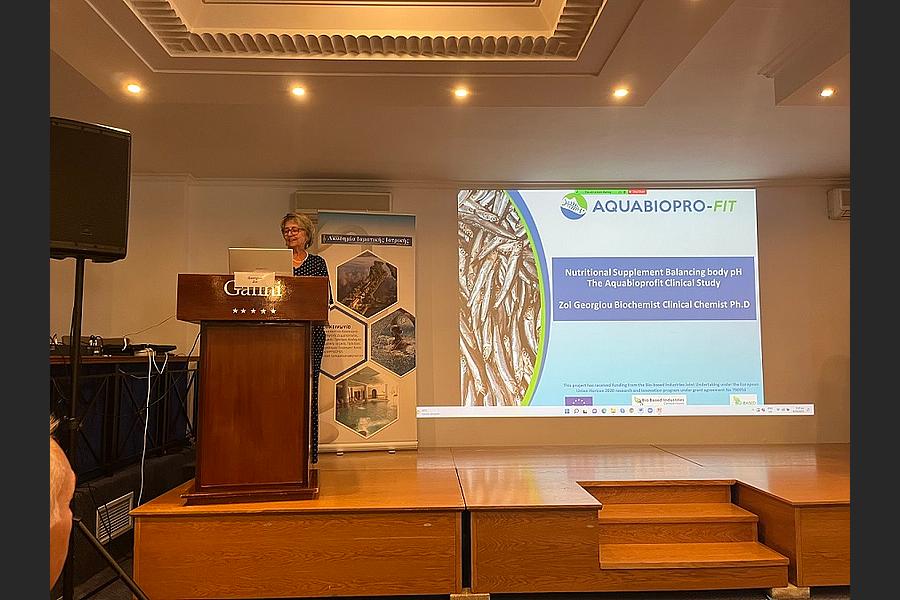 ×